Lithuanian Taekwondo championship 2018 April 14 in Vilnius.
Our club achieved these places:
Matas Janušauskas Lithuanian champion – 1st place.
Povilas Morkūnas 2nd place
Justinas Kybartas 2nd place
Andrėja Bagdonaitė 2nd place
Ugnė Janušauskaitė 2nd place
Orestas Žiupsnys 3rd place (category of adults – 80kg).
Orestas Chamantauskas 3rd place
Matas Juškevičius 3rd place
Ūla Jarulytė 3rd plcae
Arnas Rubežius 5-8th place
Armandas Rubežius 5-8th place
Rokas Baranauskas 5-8th place
Martynas Baranauskas 5-8th place
Kristijonas Kavaliauskas 5-8th place
Augustas Petriulionis 5-8th place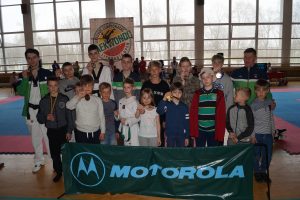 Our athletes Orestas Žiupsnys(adult group) ir Ugnė Janušauskaitė(junior 15-17 years old) took part of G-1 Taekwondo championship Slovenia Open 2018 in Maribore on February 24-25th.
This championship was very important as it is possible to earn ranks (points for Olympics).